Poster/Abstracts
We would like to thank you for more than 160 submitted poster abstracts.
For download of the complete program (PDF 21 MB) including all abstracts (posters, short oral presentations, invited talks), please click here.
Poster information
Conference language is English.
Your poster number corresponds to the ID number of your contribution.
Note that posters will be exhibited during the entire conference but presented in two separate sessions. The presentation of posters with odd numbers is scheduled for poster session I on Sunday afternoon, Sept. 14, 4:00 pm, and of those with even numbers for poster session II on Monday afternoon, Sept. 15, 4:00 pm. However, please feel free to discuss in front of posters also during coffee and all other breaks.
Here you will find the conference agenda (schedule, latest update).
For download of the current time table, please click here.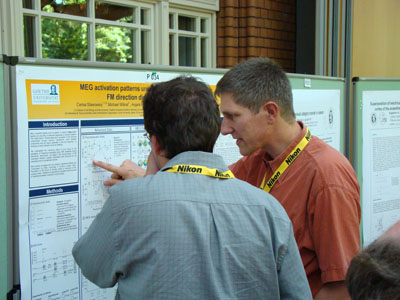 Poster size is 900 x 1200mm (width x height). Supplies for fixing your poster will be provided on-site.
Short oral presentations and poster awards
The scientific organizing committee has selected 10 posters for short oral presentations (5 minutes, no discussion directly afterwards) on the basis of several aspects like scientific excellence and novelty but also to achieve a good balance between human and animal research.
At the end of the conference, another 5 contributions will be selected by a committee consisting of the non-local session chairs for poster awards.
Publication
Abstracts of talks and posters will be published in the "Proceedings of the 5th International Conference on Auditory Cortex – Towards a Synthesis of Human and Animal Research". This paperback booklet has an ISBN number (978-3-86912-095-9); thus, abstracts are citeable in further publications.