Home
5th International Conference on Auditory Cortex - Towards a Synthesis of Human and Animal Research
The 5th International Conference on Auditory Cortex is coming up. It will continue the series of previous meetings which were held in Magdeburg (Germany) in 2003 and 2009, in Nottingham (UK) in 2006, and in Lausanne (Switzerland) in 2012. The 2014 meeting will again take place in Magdeburg in the Herrenkrug Parkhotel, from Saturday, September 13 to Wednesday, September 17, 2014. It will be organized by the Leibniz Institute for Neurobiology Magdeburg.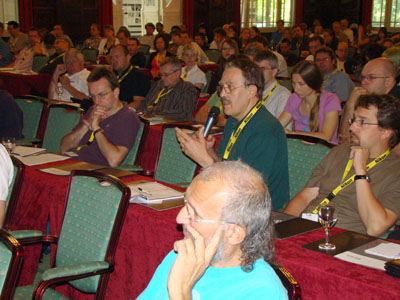 The scientific program will cover a wide range of topics and will provide unique opportunities to discuss current ideas of auditory cortex functions and concepts in humans and animals. Overall, some 40 speakers -- from young researchers to long-established leading scientists -- have been invited, and also confirmed their attendance. We arranged the scientific program around six sessions entitled:
Auditory cortex in different species
The hearing action cycle
Learning in auditory cortex
Auditory cortex: It's about time
Multisensory interplay in auditory cortex
Auditory cortex: Clinical aspects
In addition, we will provide ample space and time for posters, short presentations, and discussions.
The setting of the meeting in the marvelous Herrenkrug Parkhotel right next to the Elbe river has, in the past, provided a relaxed yet stimulating atmosphere for scientific discussions. We are confident this spirit will linger also in 2014. We, the organizers of the conference, will do our very best to care for this ambience by providing an excellent scientific program complemented by attractive social events. Still, if you need a break from it all, there are ideal possibilities for a range of other activities (wellness, golf, tennis, cycling, and much more).
We look forward to welcoming you to Magdeburg!
Scientific Organization
André Brechmann
Michael Brosch
Eike Budinger
Peter Heil
Reinhard König
Frank Ohl
Henning Scheich
Conference Office
Venue